Veterinarian:
Dr. Deborah Wheat began her veterinary career as a young woman in her hometown of Baldwin, Long island. She loved the animals of her neighbors and soon started work at various animal hospitals and groomers in the area. After high school, Dr. Wheat received her Bachelors of Science Degree from Hofstra University. She went on to receive her Doctorate of Veterinary Medicine from Ross University School of Veterinary Medicine in 2004.
After receiving her degree, Dr. Wheat moved back to her home on Long Island to begin her career. She first began practicing in 2004 in the surrounding area. In 2016 she opened Bayport Veterinary Hospital. She currently serves on the Board of Directors of Yorkie 911 Rescue.
Somehow, between school and career, Dr. Wheat found time to marry her loving husband Matthew. Dr. Wheat and her husband have two beautiful children, Owen and Josie, who are already looking into the medical field as young children. She has also extended her family to the four-legged variety as well. Dr. Wheat has a full compliment of cats, dogs and fish. Dr. Wheat believes that all animals deserve a home and they provide the love and support every family needs.
---
Jessica has a Bachelor's degree in Conservation and Wildlife Management from Delaware Valley College and is certified in equine massage therapy. She has a love for all animals big and small. Outside of work she enjoys horse backing riding and being at home with her cats, rabbits, and guinea pigs.
---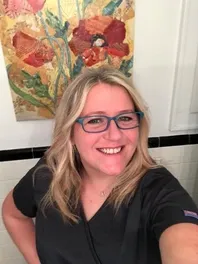 A native of Long Island, Dr. Stacey Cilenti grew up on the South Shore and has lived all over the country; but her heart lies on the East Coast. A graduate of the Virginia-Maryland College of Veterinary Medicine at Virginia Tech in Blacksburg, VA, Dr. Cilenti has worked with animals for the past 18 years. She started off working exclusively with birds as an avian zookeeper and the medical aspects of her job lead her to a career in veterinary medicine.
Dr. Cilenti enjoys surgery, dermatology, preventative medicine and helping to strengthen the human-animal bond between her clients and patients.
When not at work, Dr. Cilenti loves traveling, learning foreign languages (she is mostly fluent in German), reading, cycling and of course spending time with her black and brown tabby rescue, Sammy, aka "Samuel L. Catson." Her favorite birds include flamingos, penguins, owls, ducks and of course, the Great Blue Turaco.